How CFL Lenses are made
Chante Roets (B.Optom (UOFS) CAS(SA)
Continuous Focus Lenses
CFL lenses are produced using Lens Casting technology (Q-2100 Digital Lens System), as opposed to surfacing, which results in a far superior quality lens surface. CFL design was awarded the prestigious COLT AWARD in the USA. In fact it received a double COLT AWARD for design and accuracy. The design employs a free form back surface, which provides an excellent visual experience and is perfect for an all-round lifestyle.
Q-2100
The Q2100 Digital Lens System is a microprocessor controlled with computerized mold/gasket selection and automatic spectacle prescription transposition. Using digital free form generated molds; lenses are processed direct from liquid plastic to the finished Rx for precise optics and repeatable results. The bottle of liquid lens material becomes the lens you need, when you need it, eliminating a costly inventory of disposable molds or semi finished blanks. The operator simply dials in the patient's prescription and the system tells the operator which molds and gaskets to select for the requested spectacle prescription.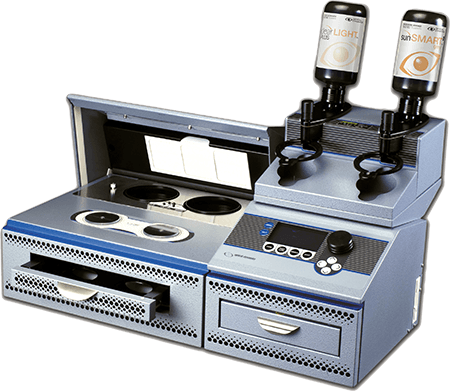 Mold Drawers
The Q2100 mold library is contained in a two drawer storage system for quick and easy access. Our lab technician easily selects the numbered molds listed on the selection screen for the requested spectacle prescription.

Flash Fill Stand
After cleaning and coating, a mold cavity is form and filled with the desired lens material. The Q-2100 Flash Fill System is a state-of-the-art dispensing unit, heating just enough material to produce each pair of lenses. Lens material is available in clear, photo chromatic grey and photo chromatic brown.
Once the process is complete, you have a pair of finished lenses ready to be edged and inserted into frames.